Why I Believe in StaminaPro
As an athlete who required hip surgery due to damage from years of intense competition, I know first-hand what it is like to live with daily pain. Those of us who have coped with real pain know that the pain sensation itself is only half the problem
— the other half being the narcotic opioid pain management medications. We are instructed by our doctors to ingest powerful drugs to manage our pain while recovering from surgery, and often again when we resume training. When I underwent surgery five years ago, I wish that StaminaPro had been available during my recovery and rebuilding, as a non-narcotic, topical, and multi-system product.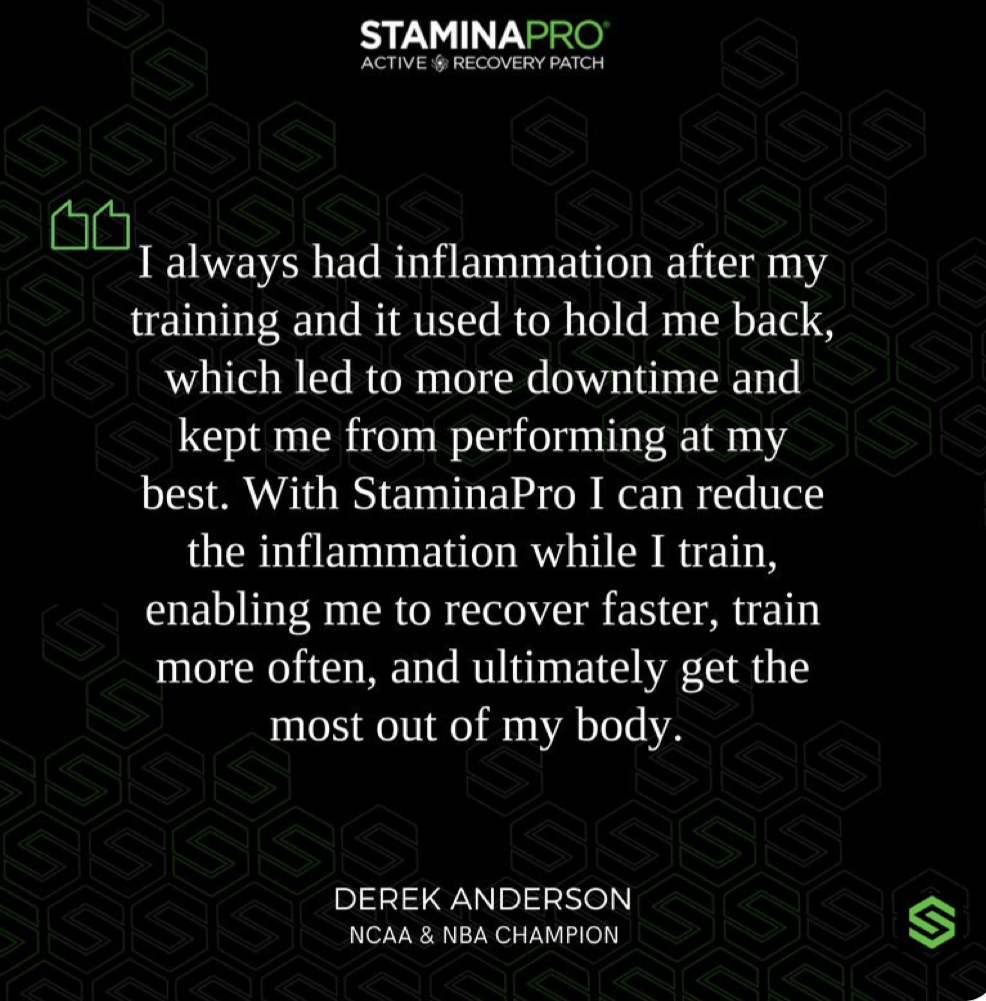 StaminaPro patches use
Energy Medicine
technology, a new approach to relief and recovery based on quantum physics. StaminaPro patches and tape deliver two hundred natural remedies known for their anti-inflammatory and pain reduction properties, placed directly at the source of the injury/pain via percutaneous (skin) absorption. Said another way, the patches contain two hundred injury-relieving natural ingredients, and your skin absorbs the perfect blend of required compounds from the 'pharmacy' patch. Example remedies from the two hundred compounds included in each patch are Arnica, CoQ10, Witch Hazel, Amino Acids, Acetyl-L- Carnitine, and more.
If you recall this year's The Masters golf tournament, there was an athlete, Tony Finau, who nailed a hole-in-one during the par three tournament. Tony leapt in the air to celebrate, and as he landed he fully dislocated his ankle. After medical staff relocated the ankle into its proper location, the joint was wrapped in StaminaPro patches and tape. The initial swelling dropped rapidly and significantly enough to allow immediate rehabilitation, and Tony teed off for The Masters the next day.
This was Tony's first Masters tournament, so simply competing was a major accomplishment, even before the injury. The fact that he tied for tenth is truly amazing, and a testament to the strength of StaminaPro.
We may not all be professional athletes, but all active people with pain management needs, either daily or chronic, will benefit from the non-narcotic, topical, and multi- symptom StaminaPro patches and tape.
— Jennifer Heistand, Summer 2018